Our History
A Brief History of Our Congregation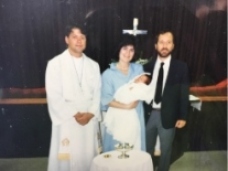 On a cold Sunday morning early in December of 1981 several families gathered to worship together for the first time at the home of Norm and Donna VanderPoel. Continuing to meet regularly and sharing the responsibilities as worship leaders, the group also began to make use of cassette tapes of sermons provided by Apostles Lutheran Church in San Jose and from St. Mark's Lutheran Church in Citrus Heights.
By Easter of 1982 the first officers were elected and a Sunday School was started. On that first (and last) Easter at the VanderPoel home, an Easter breakfast was served by the men, an Easter cross for the altar was decorated with flowers from members' gardens, and the children sang praises to God during the worship service.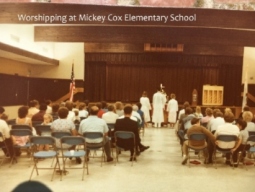 The next place of worship for the group of 35 was the Best-By-Far Sandwich Shop, which became the congregation's "home" in October of 1982. By Christmas time, Pastor Dan Gawrisch from St. Peter Lutheran Church in Modesto was serving the Fresno/Clovis congregation with twice-a-month evening communion services. A confirmation class had begun and there were two baptisms and a marriage. The congregation was growing.

In June of 1983 St. Peter was granted "exploratory" status by the Board for Home Missions of the Wisconsin Evangelical Lutheran Synod (WELS). That summer, a Vacation Bible School was held at the Sweetman home with Vicar David Lau heading up the canvassing and teaching along with several members. In October 1983 Pastor Charles Cortright was installed as the first full time pastor of what was now known as St. Peter Evangelical Luther Church of Clovis, CA.

By February of 1984 the congregation was granted "full mission" status by the WELS Mission Board, so the church was officially organized with a Constitution and Bylaws. One of the next orders of business was to find a permanent church site. Meanwhile, the congregation continued to meet regularly at its new temporary home at Mickey Cox Elementary School.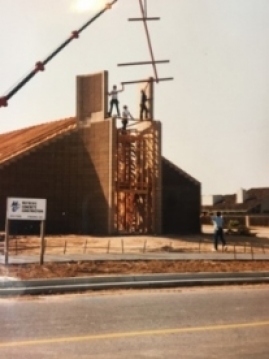 After a land search and many meetings, groundbreaking at the current site on the corner of Temperance and Gettysburg Avenues took place in January 1988. On May 22 of that same year the chapel was dedicated. In 1989 a brand new parsonage was purchased for the pastor at 2405 Lincoln Avenue.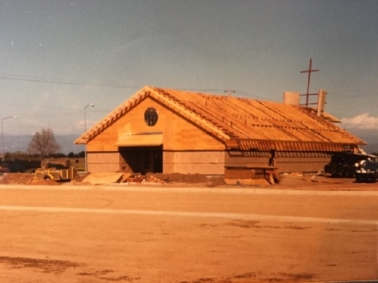 Early in 1990 Pastor Cortright accepted a call to serve another WELS congregation in East Brunswick, NJ. In May, Pastor Michael Engel of Milwaukee WI accepted St. Peter's call to become their second resident full time pastor; he and his family arrived late in June and an installation service was held July 1, 1990.

The chapel building was the only building on the property for worship, ministry, fellowship, and office space. The growing congregation needed more space to fulfill its ministry. So, in April of the year 2000, after a long wait, the congregation dedicated "Luther Hall," an education/fellowship building, complete with kitchen and classrooms.
Pastor Engel served St. Peter for seventeen years until January 2008. After his ministry, a pastoral vacancy of about ten months took place as the congregation issued a number of calls for a new pastor. In spring of 2009, Pastor Michael Carr accepted the call to serve, and arrive from St. Mark Lutheran Church in Citrus Heights, CA. He served St. Peter from 2009-2015.

In January 2016, Pastor Mark Schewe, the current pastor, arrived in Clovis. He and his wife Vicki have five children and enjoy serving the friendly congregation and living in the Clovis area. May God continue to bless St. Peter's as we enjoy spiritual growth and fellowship, and as we reach out with the message of Christ and his salvation to our community!