Bible Studies
We currently offer two Bible Studies each week -
Sunday morning at 10:15, Wednesday evening at 6:30.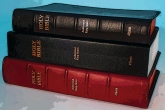 Bible Basics Course


What is a "Bible Basics Course?"
Pretty much what the title says! It's a course on the basic teachings of the Bible, taught at an adult level.

Whom is this class for?
· People who have visited our church, who simply want to learn more about the Bible
· Visitors who have expressed interest in joining St. Peter
· Members of St. Peter who haven't had a review of the Bible's teachings in 5-8 years (or more?)

Classes will be taught by Pastor Schewe.
For visitors, there is no obligation in taking this class.
This would be a great review for our members, or a great place to bring a friend who wants to find out more about God and the Bible!
If you have an interest in attending this class, please contact Pastor Schewe.
We hope you can join us to grow in your faith through God's Word!

Sunday Morning Bible Study
Adults of all ages are invited to join us in Luther Hall on Sunday mornings during Family Bible Hour. Coffee and refreshments are served for about 20 minutes after church, and then a 45-minute Bible study and discussion is held by pastor.

Books of the Bible and topics for discussion change throughout the year. Pure Bible study, contemporary issues, and doctrines of our faith are rotated, making for a balanced diet of spiritual growth. Our class numbers about 35 each week.

Children's Sunday School is held at the same time in the church.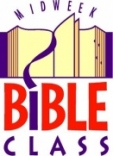 Wednesday Evening Bible Study
We offer a regular Bible study and discussion on Wednesdays at 6:30 pm. Topics and formats vary, as everything from Bible books to contemporary issues or the history of Christianity are discussed. Call the church number, if you'd like to know the current series that's being covered on Wednesday nights.